Welcome to the website of Pukeora Estate...
Pukeora Estate is a stunning hilltop setting for our family run vineyard, boutique winery and function venue.
Our wines under the PUKEORA ESTATE label are available for tastings and sales at our cellar door or via our website.
Accommodation for groups of up to 120 people is available at reasonable prices.
Happy browsing. Any comments/questions ? Please email us.
---
Venue & Hospitality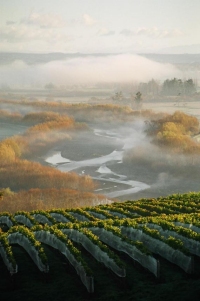 Pukeora was once a hospital, now hospitality is the name of the game.
The Venue is the ideal centre to hire for an event.
The extensive indoor facilities are available for exclusive hire and represent extremely good value for money. They comprise sleeping accommodation for groups, large reception areas and classrooms, a commercial kitchen, and a pool.
Groups of 20+ can be accommodated either with meals/bar service provided or on a self-catering basis.

We offer wine tasting at almost anytime but we recommend making a prior arrangement to avoid disapointment as we can be hard to find at times. Small group tastings are generally very casual on our home verandah.
We can provide wine tastings and or meals / tea breaks for groups in our stunning café
Many and varied activities are available on site or nearby. We are delighted to host the studio of the internationally renown artist Cefyn Gauden. Cefyn's contemporary paintings can be viewed by appointment. See activities

Check out the amazing variety of settings as a film location

Read about the history of Pukeora
---
What's New
Award winning wines grown on our limestone slopes from vintages 2009 to 2013 are available. Our wines are sold under the Pukeora Estate label and the premium Pukeora Ruahine Range label. Our wines include Pinot Gris, Chardonnay, Pinot Noir, The Benches Red (Merlot/Cab Sauv/Malbec & Syrah) and a recently released Noble Selection of botrytised chardonnay and semillion grapes. See wine cellar sales.
Cellar Door Now Open: Usual hours Friday - Sunday, 10 a.m. - 5 p.m., October to March. Come in for a complimentary tasting, and view local artist Laura Wilson's paintings in our new gallery (for more see goldstarwork.com).
We have since Feb 2014 been exporting some of our wines to Singapore. If you happen to be passing through Singapore there is no better pace to grab a wine (on and off sales) and a bite to eat than Merchants of Singapore.
2013 Vintage was a dream vintage with a wonderful harvest of ripe, clean fruit. The bigger reds are showing fabulous deep dark colour aging in barrel. The whites are bottled and the Pinot Gris 13 is now released.
The 2015 vintage was low in quantity due to a cool spring , but there were some beautiful quality grapes picked, including some of the best ever Pinot Noir and Syrah. It is all safely stowed in barrels and tanks now, maturing gently over the winter.
For local information a new website provides a great guide to our district: www.chb.net.
---
*** Events ***
We are proud to be hosting the 13th annual The Festival (art, crafts, food, gardens, antiques and entertainment not forgetting of course, wine) during September 3rd-6th 2015 with around 140 artisan stall holders touting their wares. The Festival is always a great success often with 3-4000 visitors over the 4 day event. See www.thefestival.org.nz. Hope to see you at this year's The Festival.
---
Like us on Facebook ?
You can see us on facebook "Pukeora Estate: Wines, Venue, Accommodation".