Convention Venue - Costs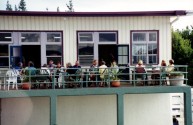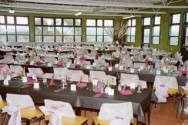 Cost of Hire (all prices are inclusive of GST, to 30 June 2017)
Sleeping Accommodation:

Price

Notes

Double/Twin Rooms

$40 per person/night

Includes linen & towel
Does not include shampoo,shower gel etc.

Single Room

$50 per person/night

(Please note: - guest bedroom bookings to be made via our on-line booking system or add $5 administration fee per person/night when bookings are not handled centrally by group organisor)

Venue Hire

Ruahine

Hall (auditorium):

$80

0/day

$1,200 for both rooms

Turiri Room

$800/day

Ruataniwha Function Room

$800/day

Other rooms

Price on application

Pool-Unheated

$50/day (discretionary)

Pool -Heated




(to 28

°C)

$1200/day for 1st day

1

,




$400/day thereafter

(Up to 33°C PoA)

Heating Supplement

$150-$350/day




(depends on area hired-optional)

2
Notes
1. Pool takes 2-3 days to pre-heat via the coal boiler.
2. Heating is supplied at your request, at a daily rate depending on the area hired. Heating is via coal boiler and radiators and can not be stopped/ started over short periods of time. There are generous supplies of hot water thanks to our boiler.
Example costing
For a group with 100 overnight guests in twin/double rooms for a weekend (Fri + Sat nights) in summer, the hire fee would be $8000 inclusive GST (excludes catering and bar charges).
(= $80 per person/per weekend inclusive of GST for shared room or $100 pp for single)
(Assumes guest bookings are made and paid via our on-line website or hirer has managed room allocation and booking of guests)
---
Plan of Convention Venue
Click here to download a full size plan of the convention venue.